Health Secretary Sajid Javid says all international arrivals to the country, including children over the age of 12, will need to take a pre-departure test from 0400 GMT tomorrow, reports Asian Lite News
Britain's government tightened travel restrictions amid concerns about the spread of the Omicron coronavirus variant, saying all travellers arriving in England will need to take a Covid-19 test before they board their flight.
Prime Minister Boris Johnson has said that travel restrictions are necessary to slow the spread of Omicron while scientists work to understand more about the transmissibility and implications for vaccine effectiveness of the variant.
Health secretary Sajid Javid said the new rules will apply from 4am London time on Tuesday. "In light of the most recent data, we are taking further action to slow the incursion of the omicron variant," he said in a tweet.
Javid also added Nigeria to the UK's travel "red list", which means that arrivals from there will be banned except for UK and Irish residents, and those travellers must isolate in designated quarantine facilities.
Britain's health security agency on Sunday reported 86 new cases of the Omicron variant, taking the total number identified so far to 246.
Karen Dee, the chief executive of the Airport Operators Association, said the new measures will be a "major deterrent" to travel, just as airports and the travel industry were hoping for a small uplift over the festive season.
"This is a devastating blow for aviation and tourism," she said
The health ministry said that the measure was justified as UKHSA analysis indicated the window between infection and infectiousness may be shorter for the Omicron variant.
But British Airways said it was a "devastating blow" for the industry, while pilot union BALPA said the government was destroying confidence in air travel.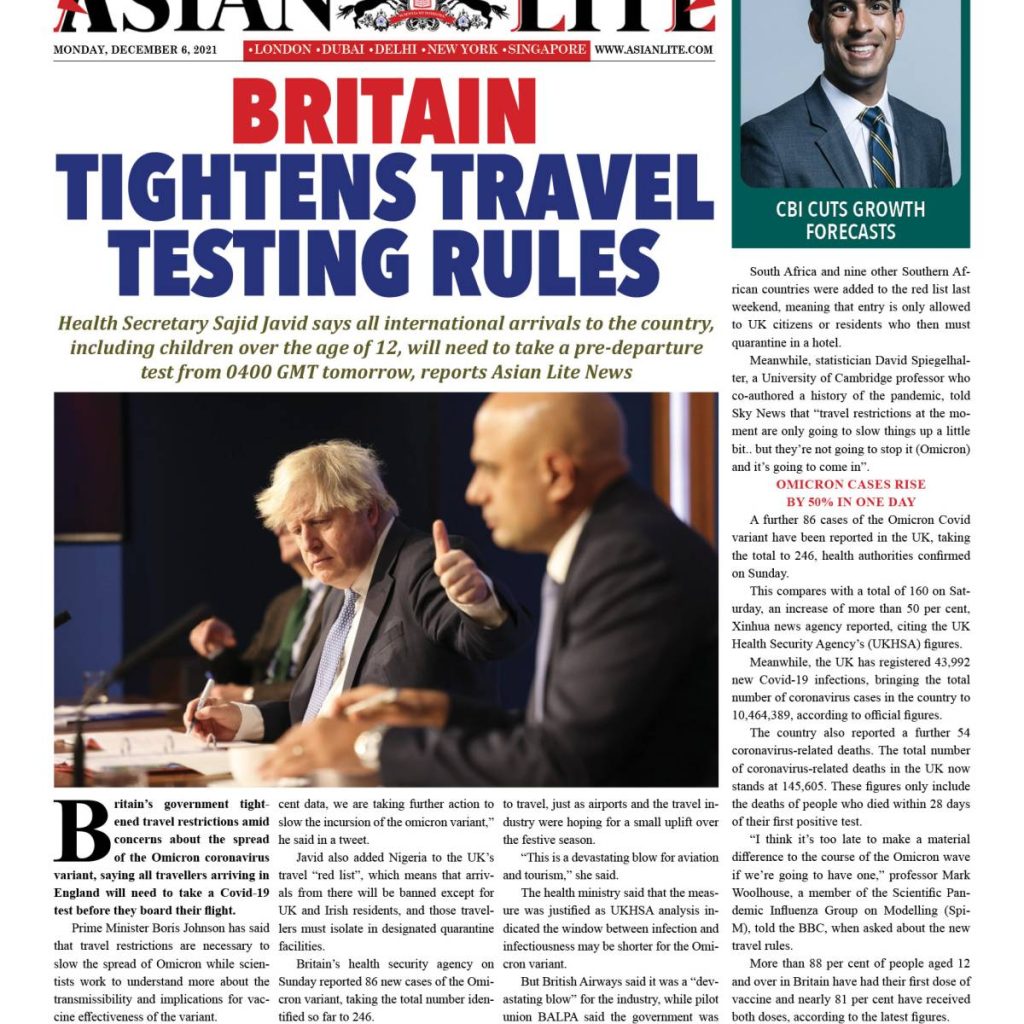 The measures will be reviewed on Dec. 20.
South Africa and nine other Southern African countries were added to the red list last weekend, meaning that entry is only allowed to UK citizens or residents who then must quarantine in a hotel.
Meanwhile, statistician David Spiegelhalter, a University of Cambridge professor who co-authored a history of the pandemic, told Sky News that "travel restrictions at the moment are only going to slow things up a little bit.. but they're not going to stop it (Omicron) and it's going to come in".
Omicron cases rise by 50% in one day
A further 86 cases of the Omicron Covid variant have been reported in the UK, taking the total to 246, health authorities confirmed on Sunday.
This compares with a total of 160 on Saturday, an increase of more than 50 per cent, Xinhua news agency reported, citing the UK Health Security Agency's (UKHSA) figures.
Meanwhile, the UK has registered 43,992 new Covid-19 infections, bringing the total number of coronavirus cases in the country to 10,464,389, according to official figures.
The country also reported a further 54 coronavirus-related deaths. The total number of coronavirus-related deaths in the UK now stands at 145,605. These figures only include the deaths of people who died within 28 days of their first positive test.
"I think it's too late to make a material difference to the course of the Omicron wave if we're going to have one," professor Mark Woolhouse, a member of the Scientific Pandemic Influenza Group on Modelling (Spi-M), told the BBC, when asked about the new travel rules.
More than 88 per cent of people aged 12 and over in Britain have had their first dose of vaccine and nearly 81 per cent have received both doses, according to the latest figures.
More than 35 per cent have received booster jabs, or the third dose of a coronavirus vaccine.
ALSO READ-Nepal detects 2 Omicron variant cases