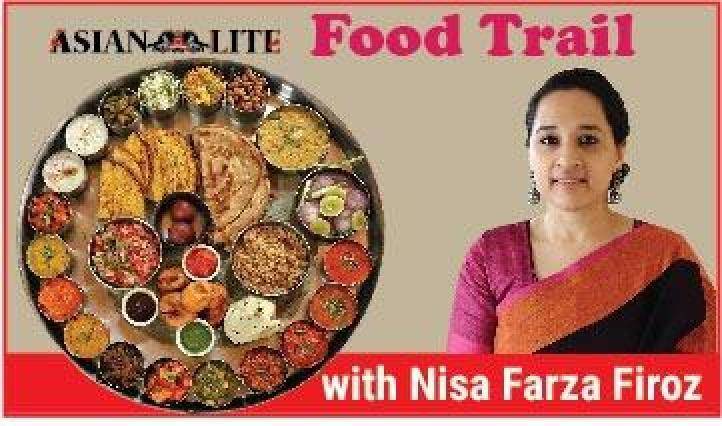 Let say you go to a South Indian Restaurant, what's the first thing you notice in the menu for breakfast, Obviously Idli. It is mainly served along with different types of chutneys and sambar. Today I am going to share my simple breakfast recipe with you all.
Idli is loaded with vitamins and is easy to digest. There are many ways of preparing Idli. Idli is a traditional fermented rice cake, it is prepared by soaking Idli rice and Urad dal for 10 – 12 hours and then grinding it into fine paste and is kept for fermentation. Now let's get into the recipe.
Ingredients:
Idli rice or ponni rice (3 cups)
Urad dal (1 cup)
Beaten rice or poha (3/4 cup)
Fenugreek seeds (1 tsp)
METHOD:
Rinse and soak the rice along with Fenugreek seeds and keep it aside, do the same with the Urad Dal. You'll have to soak the rice and the Urad Dal at least for 6 hours before grinding.
Also rinse well and soak some Poha for half an hour before grinding.
In a mixer grinder grind the rice in two batches along with the Fenugreek seeds to a fine paste by adding water in intervals. Next transfer this ground rice into a big vessel.
Do the same with the soaked urad dal. In the same grinder add Urad dal and grind it to fine paste by adding water in intervals, now transfer the ground paste to the same vessel along with the ground paste of rice.
Lastly grind the soaked poha with very little water to a fine paste and add this to the batter. Mix everything nicely either with your hand or a ladle. Close and keep it for fermentation for about 10 to 12 hours or overnight.
After the prescribed time, the batter will rise up. Incase the batter turns out to be thick do add some water to get the right consistency. Add salt to the idli batter and mix well (Use the batter as needed and the rest can be stored in the refrigerator).
Now heat water in the idli pot. Grease the idli mould with some oil. Pour the batter carefully in each mould. Steam it for about 10 minutes on low medium flame until it's completely done.
After 10 minutes switch off the flame and let the mould cool down for a bit. Scoop out the idlis with a spoon.
CORIANDER CHUTNEY
Ingredients:
Coriander-1/2 cup
Roasted dal-3/4 cup
Coconut –1/2 cup
Green chillies- 4 to 5
Tamarind –a tiny ball
Salt-as per the taste
For tempering
Mustard seed-1tspn
Dry red chillies-2
Curry leaves-handful
Oil-2tspn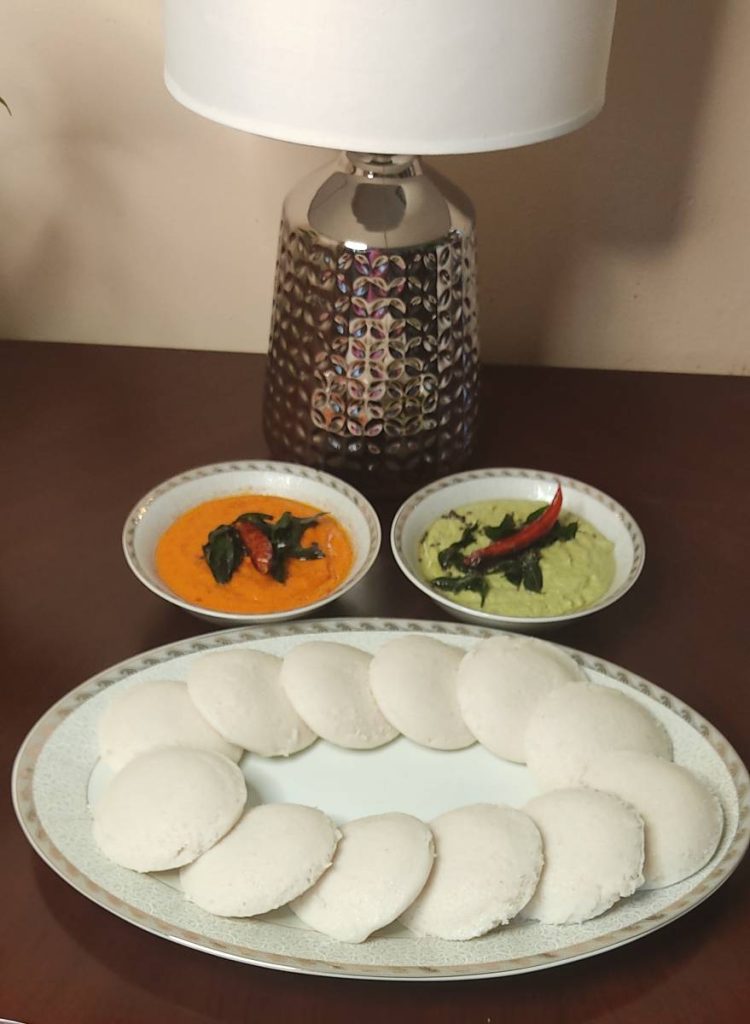 Method
Grind all the ingredients mentioned above to a smooth paste with ¾ cup of water. Transfer this chutney to a bowl.
For tempering, heat a pan on low to medium flame, add oil. Once the oil is hot add mustard seeds, dry red chillies along with curry leaves. Leave this on the stove for about 5 seconds for it to splutter & then pour this over the bowl of the chutney.
TOMATO CHUTNEY
Ingredients
Onion-1 finely chopped
Tomato-3 big finely chopped
Garlic-2 pods
Dry red chilles – 4
Asoefitida-1/4th spoon
Oil-2tspn
FOR TEMPERING
Oil – 2 tspn
Mustard seeds -1 tspn
Curry leaves – handful
METHOD
Heat pan on medium flame. Add garlic. When it turns light golden add chopped onions. Sauté it for a while until it turns into a beautiful pink shade. Now add dry red chillies, sauté them for a minute and then add tomatoes and asafoetida. Cook the tomatoes till it's soft and mushy and finally add salt accordingly. Switch of the flame, let the mixture cool down. Once the mixture is cool grind it into a fine paste. And now you can transfer it to a bowl.
For tempering heat a pan on low medium flame. Add oil. When the pan is slightly hot, add mustard seeds and curry leaves to splutter. Switch of the flame and pour this to the bowl of ground chutney.
And voila! there you have it, your fluffy idlis with spicy and tangy chutney.
ALSO READ-Relish your family with homemade Grilled Chicken Pasta