Some 119,789 cases were recorded in the last 24 hours, a day after figures exceeded 100,000 for the first time at 106,122. Britain is among the worst-hit countries in Europe with a virus death toll of 147,720, reports Asian Lite News
The UK on Thursday set another daily Covid-19 daily infections record, fuelled by the Omicron variant.
Some 119,789 cases were recorded in the last 24 hours, a day after figures exceeded 100,000 for the first time at 106,122.
The UK is among the worst-hit countries in Europe with a virus death toll of 147,720.
The Office for National Statistics estimated that nearly 1.4 million people in UK households had Covid in the week ending December 16, the highest figure yet of the pandemic that began in early 2020.
Hospital admissions are also growing, albeit more slowly than during previous waves, particularly in London.
There was nevertheless some "encouraging news," Health Minister Sajid Javid said, since "early reports suggest the risk of hospitalisation is lower than (with) Delta".
Two preliminary studies from Britain have indicated this.
"They're not very clear though on by how much that risk is reduced," Javid cautioned, warning that if case numbers are very high, there "could still be significant hospitalisations".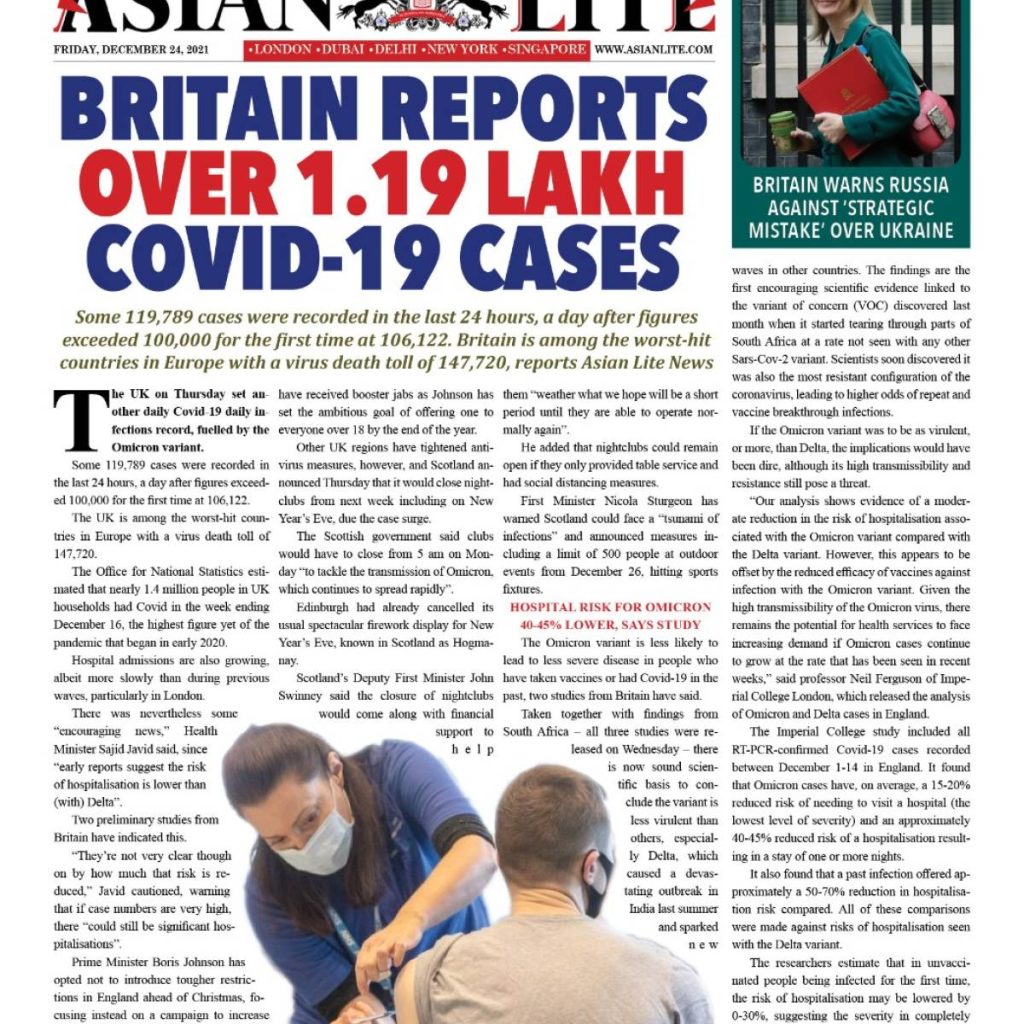 Prime Minister Boris Johnson has opted not to introduce tougher restrictions in England ahead of Christmas, focusing instead on a campaign to increase vaccine protection through a booster programme.
More than 30 million people in the UK have received booster jabs as Johnson has set the ambitious goal of offering one to everyone over 18 by the end of the year.
Other UK regions have tightened anti-virus measures, however, and Scotland announced Thursday that it would close nightclubs from next week including on New Year's Eve, due the case surge.
The Scottish government said clubs would have to close from 5 am on Monday "to tackle the transmission of Omicron, which continues to spread rapidly".
Edinburgh had already cancelled its usual spectacular firework display for New Year's Eve, known in Scotland as Hogmanay.
Scotland's Deputy First Minister John Swinney said the closure of nightclubs would come along with financial support to help them "weather what we hope will be a short period until they are able to operate normally again".
He added that nightclubs could remain open if they only provided table service and had social distancing measures.
First Minister Nicola Sturgeon has warned Scotland could face a "tsunami of infections" and announced measures including a limit of 500 people at outdoor events from December 26, hitting sports fixtures.
Hospital risk for Omicron 40-45% lower, says study
The Omicron variant is less likely to lead to less severe disease in people who have taken vaccines or had Covid-19 in the past, two studies from Britain have said.
Taken together with findings from South Africa – all three studies were released on Wednesday – there is now sound scientific basis to conclude the variant is less virulent than others, especially Delta, which caused a devastating outbreak in India last summer and sparked new waves in other countries.
The findings are the first encouraging scientific evidence linked to the variant of concern (VOC) discovered last month when it started tearing through parts of South Africa at a rate not seen with any other Sars-Cov-2 variant. Scientists soon discovered it was also the most resistant configuration of the coronavirus, leading to higher odds of repeat and vaccine breakthrough infections.
If the Omicron variant was to be as virulent, or more, than Delta, the implications would have been dire, although its high transmissibility and resistance still pose a threat.
"Our analysis shows evidence of a moderate reduction in the risk of hospitalisation associated with the Omicron variant compared with the Delta variant. However, this appears to be offset by the reduced efficacy of vaccines against infection with the Omicron variant. Given the high transmissibility of the Omicron virus, there remains the potential for health services to face increasing demand if Omicron cases continue to grow at the rate that has been seen in recent weeks," said professor Neil Ferguson of Imperial College London, which released the analysis of Omicron and Delta cases in England.
The Imperial College study included all RT-PCR-confirmed Covid-19 cases recorded between December 1-14 in England. It found that Omicron cases have, on average, a 15-20% reduced risk of needing to visit a hospital (the lowest level of severity) and an approximately 40-45% reduced risk of a hospitalisation resulting in a stay of one or more nights.
It also found that a past infection offered approximately a 50-70% reduction in hospitalisation risk compared. All of these comparisons were made against risks of hospitalisation seen with the Delta variant.
The researchers estimate that in unvaccinated people being infected for the first time, the risk of hospitalisation may be lowered by 0-30%, suggesting the severity in completely immune-naive people may not be very different from those who had a Delta infection for the first time, without any vaccine.
The other UK study was from Scotland. Although based on a small number of hospitalisations, the study made similar findings: those with Omicron infections were 68% less likely to need hospitalisation compared to people infected with the Delta variant.
Both reports, as well as the South African study, are yet to be peer-reviewed.
ALSO READ-Global Covid caseload tops 278 mn