About 60% of adults have now received a booster jab in the UK, with a record number of vaccinations taking place in the last seven days, reports Asian Lite Newsdesk
Volunteers will be working at vaccination sites in England as Britons will be able to get a COVID-19 booster on Christmas Day as part of NHS England's "jingle jab" campaign.
The campaign is part of the push to offer every adult a booster by the end of the month continues, the BBC reported.
NHS England said thousands of first, second and booster jabs will be given on Christmas Day as part of its response to the Omicron variant threat, it was reported.
Appointments are available in at least eight locations including London, Manchester, Swindon and Eastbourne.
About 60% of adults have now received a booster jab in the UK, with a record number of vaccinations taking place in the last seven days, according to the NHS.
More than 32 million boosters and third doses have now been administered, and officials are urging all eligible people to come forward for their jab as soon as possible to reduce the impact of Omicron.
Johnson's Christmas message
Prime Minister Boris Johnson on Friday urged people in the United Kingdom to get a COVID-19 vaccine as a Christmas present to their "family and the whole country," amid an unprecedented surge of infections caused by the Omicron variant of the coronavirus SARS-CoV-2.
"And though the time for buying presents is theoretically running out, there is still a wonderful thing you can give your family and the whole country … and that is to get that jab, whether it is your first or second, or your booster," Johnson said in a video message released by his office on Christmas Eve.
The prime minister, who has resisted calls from the scientific community to impose more COVID-19 restrictions this week or after Christmas, advised people, however, to take extra precautions when meeting their families and friends during the festivities.
"We must test ourselves and take extra care when meeting elderly or vulnerable relatives," he stressed, admitting that "after two years of this pandemic, I can't say that we are through it."
Meanwhile, UK has reported another 122,186 coronavirus cases in the latest 24-hour period, exceeding 120,000 daily cases for the first time since of the start of the pandemic, according to official figures released Friday.
It brought the total number of coronavirus cases in the country to 11,891,292.
The country also reported a further 137 coronavirus-related deaths. The total number of coronavirus-related deaths in Britain now stands at 147,857, with 8,240 COVID-19 patients still in hospital.
Another 23,719 Omicron cases have been confirmed in Britain, the biggest daily increase since the COVID-19 variant was detected in the country, taking the total Omicron cases found in the country to 114,625, the UK Health Security Agency (UKHSA) said Friday.
However, experts said there are likely to be hundreds of thousands of infections per day, with many being missed by the system.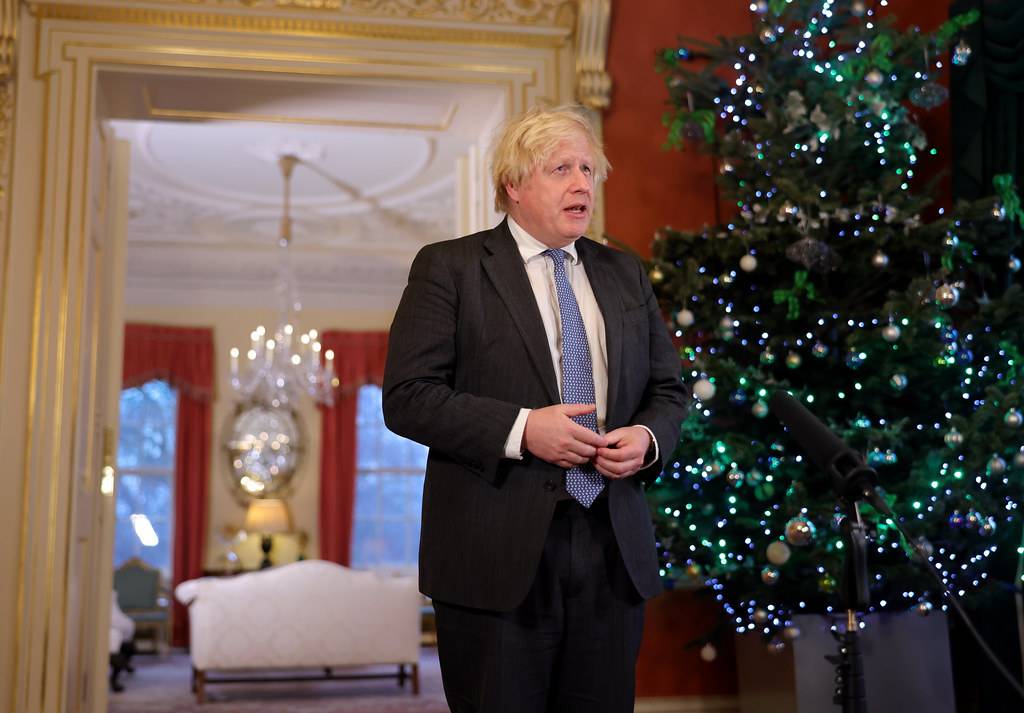 The latest figures came as data showed that around one in 20 people in London had COVID in the week to Dec. 19, the highest proportion for any English region.
The Office for National Statistics said its headline results of a national survey showed the British capital had the country's highest rate of the virus. The result was based on data gathered between Dec. 13 and 19.
In England, ONS said an estimated 1,544,600 have had COVID-19 in the past week, with 2.83 percent of the population testing positive. It equates to 1 in 35 people across England having the virus, added ONS.
More than 89 percent of people aged 12 and over in Britain have had their first dose of vaccine and around 82 percent have received both doses, according to the latest figures. More than 56 percent have received booster jabs, or the third dose of a coronavirus vaccine. (ANI/Xinhua)