Culture Secretary Nadine Dorries and Education Secretary Nadhim Zahawi both backed the prime minister as they arrived for Thursday's cabinet meeting…reports Asian Lite News
"Boris Johnson stood up in Parliament and said Covid rules were followed in Number 10 at all times," said Liberal Democrat leader Ed Davey. "Now 100 fines have been issued by the police over partygate. It shows the shocking scale of the law-breaking in Johnson's Downing Street and the extent of his lies."
he Metropolitan Police on Thursday have issued more than 50 new fines over partygate at No 10 and other government buildings at Westminster. The Fixed Penalty Notices follow more than 50 handed out last month, including to Boris Johnson, wife Carrie Johnson and Chancellor Rishi Sunak. Neither the PM nor Mrs Johnson are among those to be fined this time.
The latest penalties are thought to involve a Christmas party in December 2020, which Mr Johnson did not attend, BBC reported. No 10 has promised to reveal any further fines imposed on the prime minister.
The Met has been investigating 12 gatherings, at least three of which Mr Johnson is known to have attended. The Met said the investigation "remains live". Further fines are expected to follow, but no timescale has been given.
Labour leader Sir Keir Starmer has said he will quit if given a fine by Durham police for breaking lockdown rules. Deputy leader Angela Rayner also confirmed she would step down if fined.
The opposition leader has been under pressure after police announced a probe into an event in April 2021, when he had curry and beer at an MP's office during an election campaign visit.
Sir Keir has insisted rules were not broken and Labour says it has evidence showing it was a work event.
Conservatives had previously accused Sir Keir of "rank double standards" as the opposition leader had called for Prime Minister Boris Johnson and Chancellor Rishi Sunak to resign over attending Downing Street lockdown events.
Durham police launched their inquiry on Friday after the local elections, having previously said they did not believe an offence had been committed. It's thought the police investigation could last up to eight weeks. The event under investigation took place at the constituency office of City of Durham Labour MP Mary Foy, where Sir Keir drank beer and ate curry, while lockdown restrictions were in place. There was an exemption for "work purposes" – and Labour have said Sir Keir was eating "between work demands".
The party says it has "documentary evidence" that people worked before and after the meal on the night in question. Allegra Stratton, the prime minister's former press secretary, resigned in December last year, after the footage was revealed by ITV News. She had not been at the party but was filmed joking with officials who were.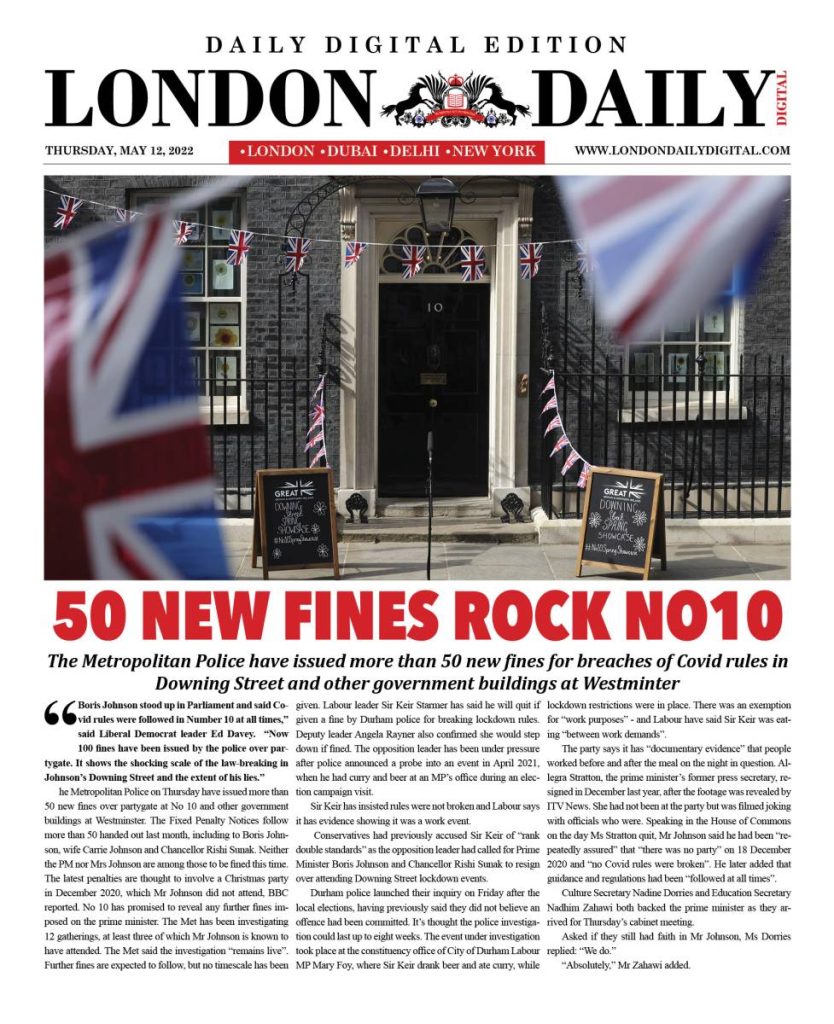 Speaking in the House of Commons on the day Ms Stratton quit, Mr Johnson said he had been "repeatedly assured" that "there was no party" on 18 December 2020 and "no Covid rules were broken". He later added that guidance and regulations had been "followed at all times".
Culture Secretary Nadine Dorries and Education Secretary Nadhim Zahawi both backed the prime minister as they arrived for Thursday's cabinet meeting.
Asked if they still had faith in Mr Johnson, Ms Dorries replied: "We do."
"Absolutely," Mr Zahawi added.
ALSO READ-Shehbaz Sharif meets brother Nawaz Sharif in London