The Hindu residents of Leicester objected to the media not putting forth their plight and turning this into a Hindu-Muslim rivalry when it was clear that clashes had the characteristic of post-game events riots that dot the European landscape every now and then, writes Arshia Malik
When violent clashes erupted in UK's Leicester on 28 August, nobody had expected it to conflate into a Hindu-Muslim rivalry. After India won the Asia Cup T20 match against Pakistan, a cycle of violence was triggered with clashes breaking out between young men of Pakistan and Indian origin. Adding fuel to the fire some Muslim extremists and radicals joined the commotion with fake news and rumours and threats, using social media to widen the chaos to sour diplomatic relations between India and the UK.
Depending on who was reporting, Muslim heritage journalists presented a biased one-sided view and used their pet scapegoat of Hindutva, RSS, and Indian nationalism to give cover fire to instigators like Maajid Freeman and Mohamed Hijab, UK-based radicals with links to terror organisations. The Hindu residents of Leicester objected to the media not putting forth their plight and turning this into a Hindu-Muslim rivalry when it was clear that clashes had the characteristic of post-game events riots that dot the European landscape every now and then.
Also, a mob staged a violent demonstration outside the Durga Bhawan temple in United Kingdom's Smethwick in Birmingham on September 20. Leicester Police Department took charge of the incident and released statements of Hindus not being involved in any kind of violence while the mob had been dog-whistled from different counties and cities of England to converge on planned dates and behave rowdily. India and Pakistan have permanent fissures and the Hindu and Muslim populations in India have permanent fault lines due to the Partition; whereas there isn't any significant Hindu population left in Pakistan. The little percentage that is left is often targeted for their faith and their daughters are kidnapped and married forcibly to Muslim men, often middle-aged.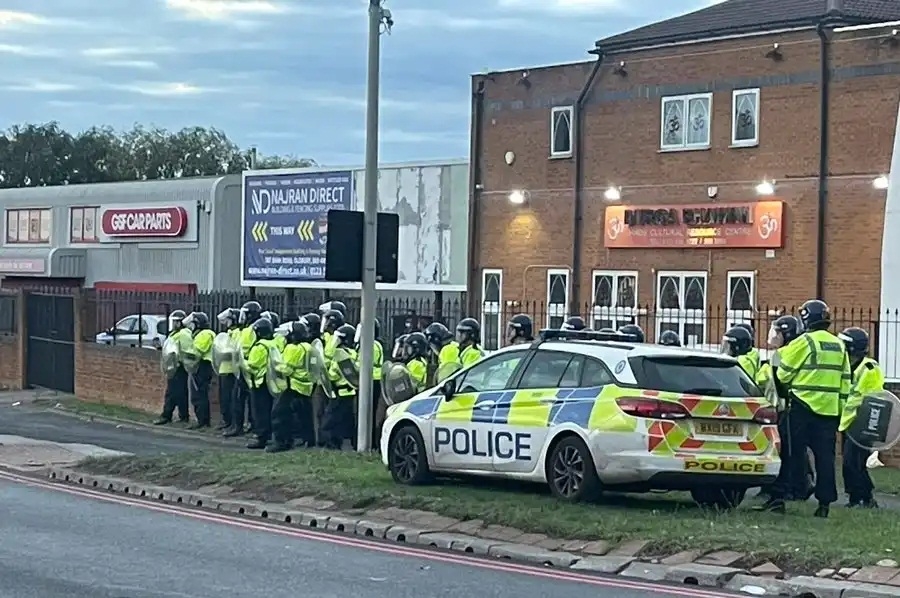 That Leicester would then be a battle of narratives between the countries of origin was a foregone conclusion. The United Kingdom stepped in, and a UK-based think tank Henry Jackson Society's (HJS) Centre on Radicalisation and Terrorism carried out this research and published the report from their official Twitter handle. The 39-page report is written by Charlotte Littlewood. It mentions that influencers on social media spread a false narrative that "RSS terrorists" were to blame for the violence to persuade Muslims from across the UK to participate in the demonstrations. In a video showing himself leading a group through Leicester, an influencer named Mohammad Hijab with over 800,000 followers urged Muslims to "protect themselves against Hindu fascism" and wrote, "Muslim patrol in Leicester."
The report debunked the narratives that RSS and Hindutva groups played part in the violent clashes, putting the wider Hindu community at risk from hate, vandalism, and assault. There was significant civil unrest from September 4-20 between ethnic minority groups in Leicester, including vandalism of property, assaults, stabbings, and attacks on places of worship, said the HJS report.
Littlewood insists the cause of the violence is a community cohesion breakdown pertaining to loud festivals, antisocial behaviour and a conflict between Muslim youth and Hindu youth stemming from territorial attitudes towards one another.
Commenting on how media relied on these Muslim social media influencers for reporting rather than going into the minor details of the incidents, Charlotte Littlewood noted, "The media has at times conflated the issue by regularly relying on influencers included in this report for comment and focusing on an issue of Hindutva extremism and India politics rather than providing nuanced and accurate analysis of the incidents." Underlining threats in front of the local community, she further said, "There is a real concern that Majid Freeman is regularly being provided a platform to express his views regarding the presence of Hindutva extremism in the UK and posing as a 'community leader, meeting with the City of Leicester's mayor and discussing the future of the upcoming independent review." Most notably, the report pointed out that on the weekend of September 17, marches comprised of Hindu and Muslim adherents occurred in the city, accompanied by chants of 'Jai Shri Ram' and 'Allah u Akbar'.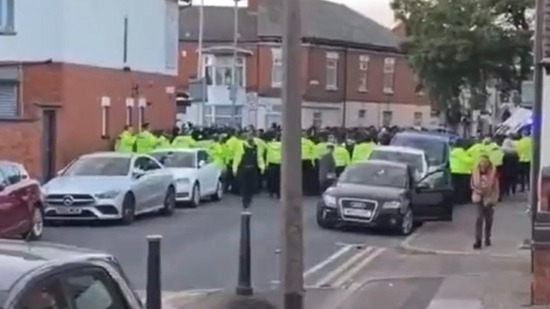 In a statement issued earlier, the Labour Convention of Indian Organisations (LCIO) had said it was "deeply saddened" by the incidents of violence, which it fears is now fuelling religious hatred in the communities. The statement further read, "Having spoken to locals, it seems extremist groups are pushing 3 baseless narratives – that diversity in the UK has failed; the disturbances are being orchestrated by forces from India and historic differences mean that we can't live together peacefully as one community."
So in this age of social media, disinformation campaigns and digital warfare, the ancient Hindu-Muslim rivalry from the medieval times when Islamic conquests established Muslim rule and the Hindu population was left bereft of the control of their religious places, any event of festivity be it Diwali, Holi can be construed as triggering factors for the minorities in the UK, with extremist individuals like Anjem Choudhary of the Hizbut Tahrir conflating the issue to generate a false narrative of Hindutva forces disrupting local life in the English counties and towns.