At the beginning of the year, Kashmir embarked on a five-year project worth Rs 463 crore aimed at creating innovative approaches for sustainable agriculture. Today satellite-based agriculture weather advisories are saving crops in Kashmir
Nature and climatic changes are beyond human control. Crop failures, infestation, and destruction of produce are inevitable. Cut off from the world until recently, the agriculture-based economy of Kashmir suffered. However, the technological boost and capital injection in the last four years have entirely turned the farmer's life around.
At the beginning of the year, Kashmir embarked on a five-year project worth Rs 463 crore aimed at creating innovative approaches for sustainable agriculture. Today satellite-based agriculture weather advisories are saving crops in Kashmir. The Agriculture Department updates farmers through news and local Krishi Vigyan Kendras on the forecasts and advises them on the suitable time for planting crops, etc. This technology uses advanced meteorological models and data analytics which have been delivering fool-proof results. Farmers are reassured and satisfied as the Department takes over a huge responsibility. Additionally, the Department can now provide immediate support to them.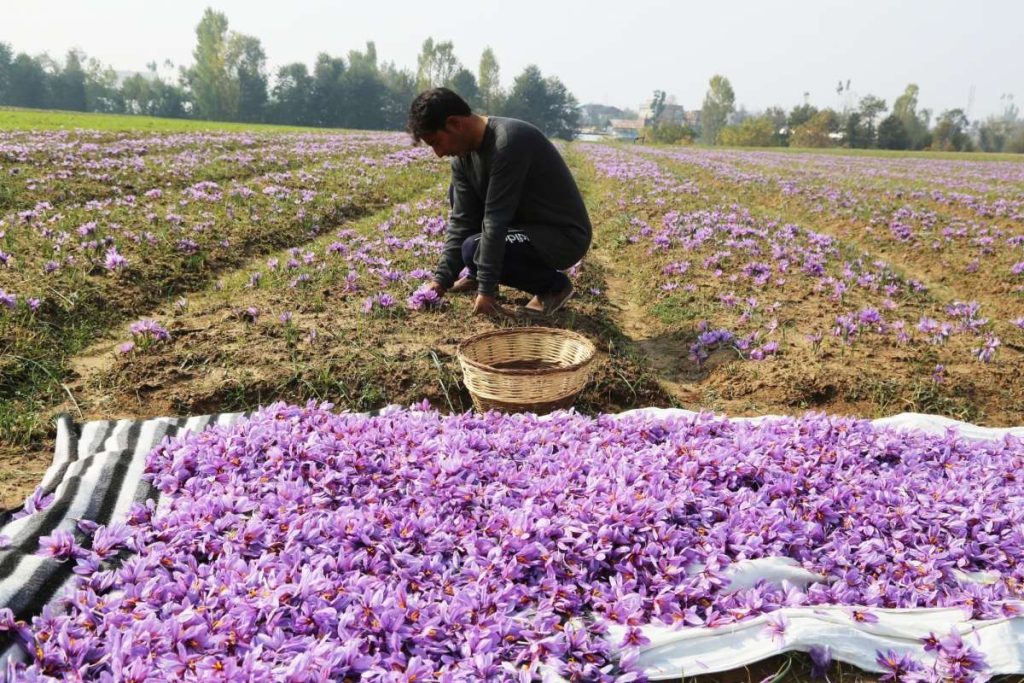 J&K administration strongly encourages farmers and industry specialists to participate in seminars, and workshops, and enroll in free government courses to keep themselves abreast with the latest technologies and methods in agriculture and allied sectors. To further widen their horizons the Srinagar Declaration, an MoU with all agriculture universities of India, was signed in August 2023. Students can pursue professional courses at Sher-e-Kashmir University of Agricultural Sciences and Technology (SKAUST-Kashmir) with access to the resources of all agriculture universities in India.
The regional dailies feature multiple agri-success stories of local youth in a day. The agriculture sector has magnetized the young generation. Many have quit high-paying MNC jobs in India's metropolitans to thrive as a farmer or horticulturist. Subsistence agriculture is transforming into commercial agriculture and improving the living standards of the farming community. Statistics show a significant increase in admission to post-graduation agri-courses. People are enthusiastic about receiving futuristic education that will set the pace for a new era in agriculture systems, 'Agri 4.0' in J&K.
Further, the Holistic Agriculture Development Program provides all technical support and guidance to these agri-preneurs or budding farmers. A female agri-preneur from Baramulla, Safina Mushtaq, has been using innovative methods for cultivating mushrooms, flower seedlings, and protected cultivation. Her flourishing business and enterprising attitude earned her visits from top dignitaries in the Agriculture Department.
Another woman from South Kashmir has started something unheard of, a kiwi nursery. A student of SKAUST-K 24-year-old Gowhar Jabeena took upon the challenge when her university introduced the plants on an experiment basis. The demand for kiwi is high in mainland India and is priced anywhere between Rs 30 – Rs 50 apiece, which is her driving motivation.
Profit-making is the first attraction of any business opportunity. There is a huge demand for Kashmiri vegetables and exotic vegetables outside of J&K. Under the Seed Village Program, the Agriculture Department has also introduced new varieties of maize and beans. Paddy hasn't lost its importance, but other crops have gained theirs. Through technological interventions, plant protection measures, and irritation facilities, farmers are hopeful for a good season.
The Agriculture Department is bringing in unused, or illegally encroached barren lands to convert them into vegetable fields or gardens. The idea is to not let fertile land waste away in any inch of the Union Territory. The farming community and landless farmers will be allocated fractions of the lands and, in that way, economic activity will yield results, even if ultimately the products are grown for personal use.
Due to such government interventions, farmers such as the ones in Bugam village of Budgam district have been able to grow vegetables in massive quantities. Their production per hectare is a whopping 840 quintals! By the end of August, they collected Rs 27 crore just selling vegetables! The newly introduced hi-tech polyhouses in the district will further help understand nutrient management and experiment with efficient methods for growing the best quality produce in a controlled environment.
The central government is leaving no stone unturned to boost this entrepreneurial ecosystem. The Ministry of Micro, Small, and Medium Enterprises has funded the SKUAST-K to hold 550 entrepreneurship and skill development programs in the session of 2023-24. Such major upgrades in capacity building will be monumental for J&K in achieving its dream of self-sufficiency in food within the next decade.